YOUR STORIES
We would love to hear your experiences with raw feeding: Why did you do it? What was hard? How did you make it work for you and your pet?
Send us Your Story - a picture, and a few paragraphs about your experiences to go on our website and Facebook page - and you could win a $50 voucher for Raw Essentials frozen product.
Molly was recommended to us for her sweet nature, and when I went to meet her at the pound last December I loved her kind eyes and gentleness. We'd never had a dog before, but when she came home she fit in very quickly. Her age and history are unknown, but at a guess she's around four years old, and she's mostly lab.
She was healthy enough on her biscuit diet, but as a family we try to eat 'real' food rather than processed stuff so when I found out about raw food it just seemed like common sense.
The key changes I've seen since switching to raw food are that her coat is silkier and glossier, she never gets dry skin like she used to, she's lost that 'doggy odour', and it's easier to keep her weight under control. And of course, there's a LOT less poop to pick up – no more stopping three times in the space of a 40 minute walk.
So that's Molly's story – not a huge change, just a 'healthy enough' girl becoming very, very healthy.
Kind regards,
Judi
I got Chewy in 2016 when my daughter passed away. He wasn't on the best diet when we got him and I always just thought he was naturally quite skinny.

After popping into one of your stores out of pure curiosity one day, I decided to start Chewy on a raw diet as he had been quite difficult to get to eat and we were worried about how picky he was.

He loved the raw food straight away! He would devour the lamb mix and we were happy knowing he was finally getting all the nutrients he needed. He moved onto a range of different raw mixes, and even started eating bones, which he loves.

He put on some much needed weight and his coat even changed into a nice thick coat! He is a much healthier little Chihuahua now and we are so happy with the condition he is in thanks to Raw Essentials.

Thank you guys so much!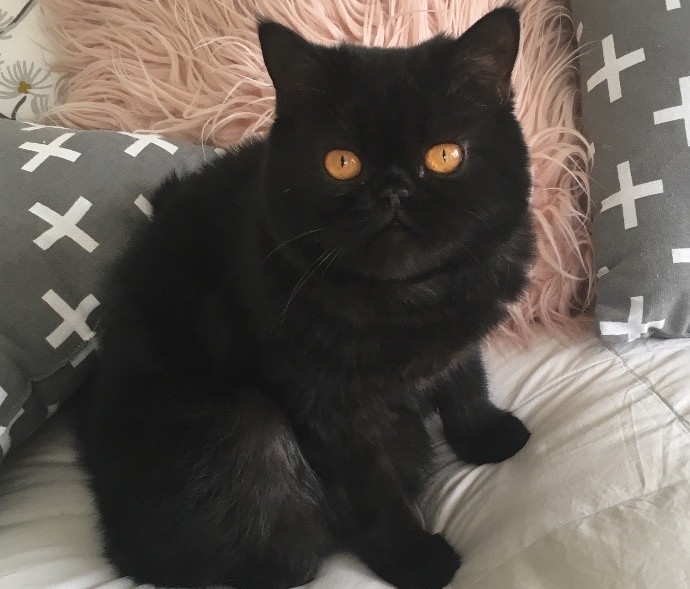 We got Charlie nearly a year ago. He arrived via plane and due to flight delays was left in his crate without food and water for 12 hours.

Needless to say our wee 12 week old Exotic Persian was rather scared and stressed. We were told to continue his diet on a kitten dry food variety.

Charlie loves his food and also sought out our other cat's food at every opportunity. His poos went from firm to runny, and then very runny and being a long hair cat, cleaning him up afterwards was an issue. We took him to the vet and they did the usual tests, all of which were normal.

They changed his food to a more digestible brand and this made very little difference. His poos continued to be runny, smelt foul and were bright yellow. He ended up with bloody stools and was put on an inflammatory medication which helped, but the thought of him staying on this medication seemed ridiculous.

After speaking to our dog trainer, she suggested a raw diet and we had nothing to lose, so we went and saw Rebecca at your Hamilton store. Charlie was banned from biscuits that day forth and he started on rabbit meat and bone broth (he was eating better than some humans, I'm sure!) We added probiotic and then moved to rabbit mince. He loves meal times and our once quiet cat now miaows at dinner time. Finally solid poos! It was a joyous moment.

Recently while in vet care he got into some dry food of another cats which resulted in runny stools and vomiting immediately. Unfortunately the vet took him off his supplied raw food and gave him dry food and medication. Once home I put him straight back in his rabbit meat and bone broth and overnight he was back to normal.

I can't speak highly enough for the raw food diet. All my other animals are now also enjoying Raw Essentials. I also want to acknowledge how caring and supportive Rebecca and her team at the Hamilton branch of Raw Essentials are. They even called me to see how he was doing. Great product, amazing result and exceptional customer service.
As a puppy, Ellie's tummy was just never quite right. She didn't seem able to digest food very well and often had diarrhea and sloppy poop. I switched her to high end dry food and that was a bit better, but if she ever ate anything she shouldn't (and she did!), she'd have sloppy poop again. She also got a giardia infection from drinking stagnant water so had a course of antibiotics quite young which didn't help her gut at all. Vets couldn't find anything wrong with her digestion, so I just knew she was sensitive like me.
My friend recommended Raw Essentials to me, and I had toyed with the idea of raw feeding Ellie but was worried about the cost since she is an active breed. Then she got an ear infection, and the vet told me it was "seasonal allergies" and she'd need to take preventative steroid ear drops for life to manage it. Since she was only 6 months old, this didn't feel right to me, so I did some more research and thought maybe it was a toxic overload. So, we took the plunge, and switched to raw feeding.
At six months old she went through a serious detox that first week – diarrhea, ear wax, coat went dull, hair loss, eyes gunky…..and then, wow! It all disappeared, and she looked brighter and shinier than ever. She was also much calmer, less hyperactive, which for an active dog, is a definite plus!! Eight months later, and we haven't had a vet visit since the switch. She's happy and energetic, has lovely white teeth, and has amazing poop every day, even if she eats gross things at the park, her gut is much stronger now and can cope with it. She's also never had a flea, or any sign of worms! And the best part is she LOVES her food, which makes us both happy.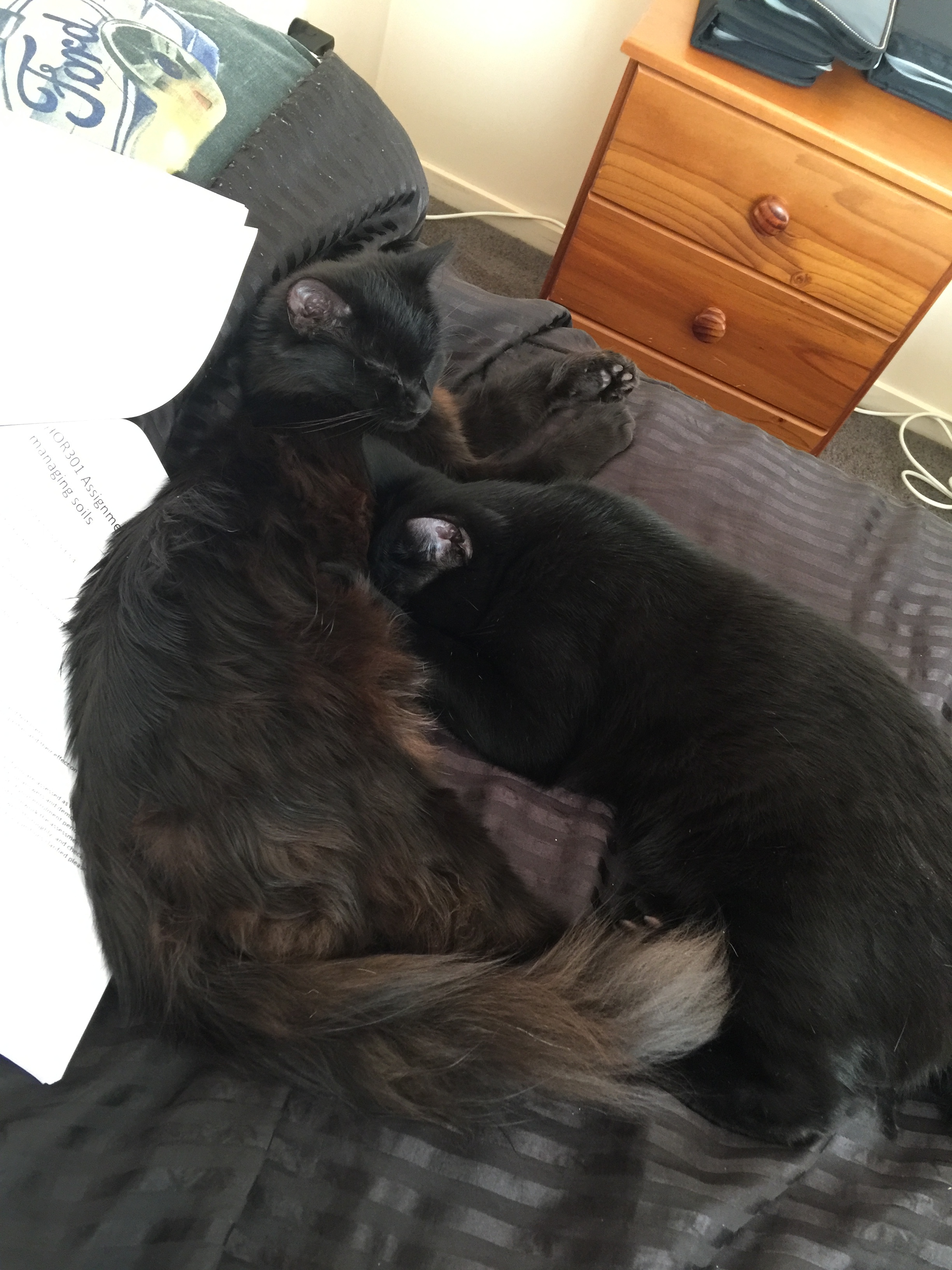 You've already had my story about our late Pepe but our two kittens, Blaze and Cleo, who are now 7 months old, have been raw fed on your products since we got them at 8 weeks of age. They love your food so much that they actually refuse any other food! Their fur is so soft and shiny (the vet nurse described it as 'lush'!)

Our cats love tripe too, which I'm told is not common in cats.

I'm heading to the Hamilton store on Saturday to restock the freezer.

Many thanks,

Jo
I adopted my dog Crash just under a year ago from a rescue. He is a Collie X and has lots of energy, but he spent a lot of it obsessively chewing his tail to the point of scabs. He also chewed his feet pads until they came off. It was hard to keep weight on him with kibble, and he has always been a very slender 'skin and bones' looking dog.
I had done some research on a raw diet and decided it would be a good idea to try for his health, and saw Raw Essentials as the best place for advice. We popped into your Ellerslie branch and they were very helpful about what novel proteins to go with to avoid his allergies, and which proteins would help him build weight. They showed me how to use organs and bones in his diet as well.
Fast forward almost 10 months and there are no more scabs on his tail, his foot pads aren't so dry and cracked anymore and he LOVES dinner time. He will come to the freezer with me and I will hand him a chunk of meat which he will proudly carry outside. It occupies him for a while so is great enrichment as well as great food. His coat is shiny and teeth clean. He sits at a healthy weight now without any effort.
Raw Essentials makes raw feeding easy with the cubes and friendly staff, we won't ever go back to kibble. I just pop in once every two weeks, grab an easy selection and throw it outside for him to eat. He loves visiting your stores with me, I think he knows that's where all his fun tendon chews come from.
Unfortunately I don't have any before pictures as my phone died, but here he is now, shiny and happy.
Monique and Crash
Andre, a Shitzu Cross arrived into our family on New Year's Day 2016. He was such an adventurous young fellow and loved to explore and play fetch. At around 8 months old we started to notice that he would become sore and miserable following a walk or a game of fetch. This became more and more prominent, to the point we wouldn't be able to touch him due to him being in so much pain.
We took him to the vets and it was discovered he had bilateral hip dysplasia. The vet told us he would not last much longer and he would be unable to take part in any physical activity. He said the only way to treat it was hip replacements which would cost thousands.
I then came across Raw Essentials, I went into the shop and got fabulous advice. And from that day Andre has been on a raw diet. I am astonished at this difference it has made. Andres hips have become so strong and he is able to play fetch for as long as he once did. He is now back to being our happy little dog enjoying life. We have also noticed he has a shiny coat, is less itchy and very strong teeth.
We are very thankful for finding raw essentials and cannot recommend it highly enough. It saved our dog!
Our pound puppy, Sadie, was bow legged and had diarrhea all the time. We tried her on a couple of "superior" brands of dog food to try and clear her diarrhea but had no luck with settling her stomach and her legs were getting worse.

We decided to try Sadie on raw after chatting to the friendly and knowledgeable staff at Raw Essentials in Hamilton. Within two weeks her diarrhea had cleared, and after one to two months we had noticed a big improvement with her legs. The bowing in her right leg was almost unnoticeable! She just kept improving from then on, no more bowing now! We are very pleased we switched her to raw.

We like how Raw Essentials makes feeding raw easy. I enjoy feeding time as much as Sadie does! Plus we love that raw fed shine! Sadie always gets a lot of compliments on how shiny and healthy her coat is.
We are happy to recommend Raw Essentials to anybody with a friend or family member of the canine/feline kind!
I'm lucky enough to have two furr-babies Dantè (black) and Zara (tan). Being my first dogs I was completely unaware just how important diet was. They ate kibble for the first couple of years of life and bones from the butcher.
I read on a facebook dog page about raw food and decided to give it a go. The trouble is I was uneducated and didn't know what to feed them and how often etc. I did try raw food from another company, however little advice was given. I didn't even know I had to feed them tripe to help with digestion. My doggies weren't too happy. The trouble is I was trying to spend as little as possible. A little more research brought me to Raw Essentials. I love the advice i received. I now know about quantities and different types of proteins. I love that portion control is so easy with Raw Essentials. I will admit, the kibble we used is far cheaper and I was driven by finances. However a few weeks into raw feeding I noticed much my babies didn't have smelly breath at all, even while panting after a big run! Not to mention brighter eyes, shinier coats, slender bodies, much less poop on the lawn and less baths needed. I think we have a winner! Now I've gotten used to what it costs me to feed them, I honestly wouldn't turn back. In comparison to fancy vet kibble however I do think the cost of raw food still trumps. I'm so glad I read that facebook article.
I'm impressed that you don't see Raw Essentials advertising everywhere, it sells itself. Ive told my brother about Raw Essentials since he has a new pup and I'm always trying to spread the word as i believe in this system. I love catching up with Nicolette at the New Lynn store and her darling dog Wilbur.
Thank you for helping me make life better for my furr-babies.
I would like to share my success story of my cat Phoenix.
He is about five years old, but I am not sure as I adopted him as a rescue cat three years ago. Phoenix had a urinary track problem. The first time it happened I rushed him to an after hours emergency clinic. He relapsed again over a year ago. I didn't want to feed him completely a biscuit diet prescribed by my vet. I researched his condition and how to keep him alive and healthy.
Then I found Raw Essentials. The concept is great for me as I am a vegan and I love keeping my beloved pet as naturally as I can - close to an animal's nature.
It has now been over a year of this diet he has still not relapsed and that makes me so happy.
Regards
Kylie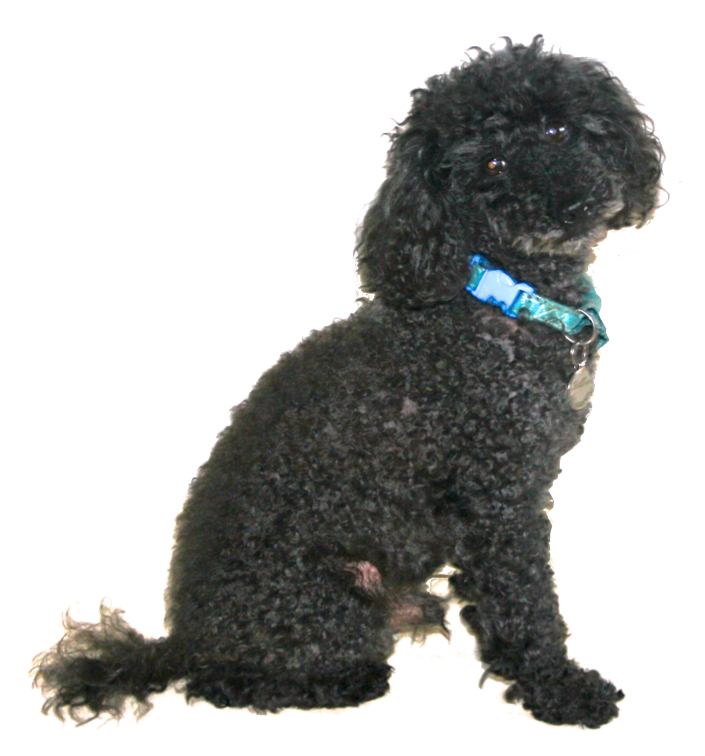 Carlos, a Toy Poodle, was on Trade Me and we were looking for a doggy companion for our Miniature Poodle Patsy. He was nearly 6 years old and in need of a home.
We picked him up at Auckland Airport and it didn't take us long to work out that the little guy had some long-standing health issues. His coat was very dull, with several bald patches along his back and he had pronounced swelling around his bum. This was obviously painful for him as he could never settle, running around in a distressed fashion and constantly snapping at his bottom.
We took him to our Vet, who diagnosed the problem as impacted anal glands and recommended that they be removed. Although his entire anal area was grossly swollen, this was done and the results were disastrous – Carlos became very ill and spent a week in hospital – and there was no improvement in his condition.
At our wits end and looking for answers, we came across an article about Lyn, and the benefits of a raw meat and bones diet. We took Carlos along to see Lyn, who diagnosed colitis and suggested a complete change in his diet.
He is now a happy, healthy little dude with a shiny coat. We were so astonished by the dramatic change in his health and demeanour that we switched our other Poodle and two cats from commercial pet foods to the raw diet. The change in all of them has been almost as spectacular, with our 16-year-old cat going from elderly-looking to almost youthful in a space of a few months.
Our dog's name is Rhubarb. We bought her from a petshop 4 years ago.
When we bought Rhubarb, she had only ever eaten biscuits, so we continued the feed she was accustomed to. However, as she got older, she increasing suffered from a very itchy skin, and was constantly scratching and biting at herself – with the result she often had raw and bleeding areas on her back.
Upon taking her to the vet, he suggested Rhubarb had a flea and a grass allergy. We switched her to another type of flea treatment, and did a term of prednisone with her to reduce the inflammation, however the problems continued. She also developed red and sore ears.
We were driving up to Muriwai one day, and spotted your shop along the way. After calling in and chatting to the very helpful staff members, we decided to try Raw Essentials for a couple of months, to assess whether this would make a difference.
Now 6 months later, Rhubarb is a different dog. Her coat is healthy and glossy, and she has much less skin irritability. She is not as susceptible to fleas, and her coat smells a lot better.
Thank you all so much for your excellent advice on choosing feed for our dog, it is a treat to go somewhere where the staff are knowledgeable about their product, and give great customer service!
Kind Regards,
Joy